Neck Lift Surgery in Sarasota, FL
As we age or experience fluctuations in our bodyweight, it's quite common for the neck to become loose, flabby, and generally ill-defined. The early appearance of slight fullness under the chin (submentum) and/or sagging skin in the same area can often progress to greater heaviness and skin laxity. Depending on its severity, this condition is sometimes described as a double chin or a turkey neck. As the severity of submental fullness and neck skin laxity increases, the youthful well-defined sharp jaw neck angle (cervicomental angle) becomes less well-defined. Neck Contouring or Neck Lift can provide a dramatic improvement in the definition between neck and chin.
Types of Corrective Neck Lifts
Laser-Assisted Neck Contouring
This procedure uses a special laser to break up fatty tissue (lipolysis laser – in our clinic we use either the AccuSculpt laser or the SmartLipo laser) and a liposuction cannula to remove the excess fatty tissue.
Submentoplasty
This procedure may involve surgical removal of excess skin under the chin with or without tightening of the Platysma muscle (thin sheet-like muscle that protects deeper structures in the neck).
Neck Lift
The neck lift may incorporate laser assistance thanks to the AccuSculpt laser, and tightening of the platysma muscle, as well as surgical repositioning of loose neck skin providing a rejuvenated, taut look.
The Neck Lift Procedure
Neck contouring and lifting procedures are typically performed under IV sedation in our accredited, private, office-based ambulatory surgery center. As a so-called "day surgery" procedure, patients are home and resting the same day.
While performed in nearly all patients undergoing Face and Neck lift, neck contouring may be performed as an isolated procedure and is commonly performed in patients undergoing chin implant placement. A Neck Contouring procedure can be performed alone or in combination with other procedures to improve the definition of the face, such as facelift surgery or chin augmentation.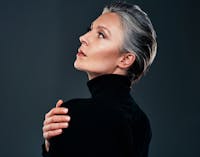 The Neck Lift Recovery Period
Patients should expect the initial recovery from Neck Contouring/Lifting to last approximately two weeks. Swelling and bruising may appear initially but diminish quickly.
The Ideal Neck Lift Candidate
Patients with a heavy neck, an ill-defined jaw-neck line or loose tissue beneath the chin may benefit from neck contouring.
Depending on the cause(s) of the neck fullness, neck contouring may require removal of excess fat (liposuction), tightening of the platysma muscles and repositioning or removal of loose skin.
Men occasionally elect to undergo a more direct approach to neck contouring procedure that directly removes loose skin and excess fat and tightens the platysma muscle (Direct Excision).
For more information on procedures to contour/lift and renew the chin and neck, or to schedule a consultation appointment, contact our office at (866) 218-4810. Holcomb – Kreithen Plastic Surgery proudly serves the Sarasota area, and is easily accessible from all areas of the state or country.