If you've been feeling frustrated by fine lines, wrinkles, sun damage, or other indications of aging in your face and neck region, there are plenty of ways to both refresh and rejuvenate the area. Even better is the fact that we offer a number of options to shave years off your appearance, without having to undergo any kind of invasive surgical procedure, or deal with a frustrating recovery period.
The eCO2 Fractional CO2 laser can help to tighten and rejuvenate skin while also removing imperfections from the outer layer, stimulating the production of compounds like collagen and elastin, as it does so! Reach out today to set up an in-person consultation, so you can learn more about what this treatment can do for you.
Is This Treatment
Right for Me?
The eCO2 Fractional Laser treatment is a great way to relieve yourself of mild to moderate issues with the skin, linke wrinkles and fine lines, that contribute to an aged or haggard appearance. Issues like sun damage, hyperpigmentation, fine lines, wrinkles, and other surface-level issues can also be addressed.
How the eCO2 Treatment Works
The eCO2 ablative fractional laser is a state-of-the-art laser system designed to rejuvenate dull, lax skin of the face and neck. The treatment removes very small (120 microns or roughly one-tenth of a millimeter) columns (micro-ablative columns or MACs) of skin to a depth selected by Dr. Holcomb.
The MAC depth goes through the outer layer of skin (epidermis) and deep into dermis – with both the depth of treatment and density of MACS (how close they are together) working together to obtain the desired outcomes of improving the damaged outer skin layers, stimulating collagen production and skin tightening.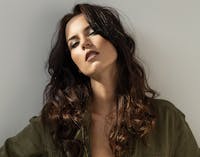 Dramatic improvement can be achieved for fine lines, small superficial blood vessels, brown discoloration, skin laxity and wrinkles. The eCO2 ablative fractional laser is also effective for improvement of surgical and traumatic scars.