Rhinoplasty is a fairly common plastic surgery procedure, but it's not unheard of for individuals to be less than pleased with the results they wind up seeing after their rhinoplasty procedure has been completed. If you have undergone facial plastic surgery and experienced less improvement than desired or have had a complication, you may be a candidate for revision surgery at either our Tampa or Sarasota location. Our surgical staff brings an impressive level experience to the table, along with a focus on elegant, natural-looking results.
Am I a Candidate for Revision Surgery?
You may be a candidate for revision or tuck surgery or simply a different procedure if you have:
Undesirable nose shape or breathing problems after rhinoplasty.
Brows that are too low or uneven after browlift.
Rounding (pulling down) of the lower eyelids after eyelid lifting (blepharoplasty).
Alteration of the hairline or loss of hair after brow lift or facelift.
Persistent fullness of the nasolabial fold after facelift surgery.
Persistent fullness under the chin after face and neck lift or neck contouring surgery.
Significant neck skin laxity after face and neck lift.
Facial asymmetry after any procedure.
Deformity after skin cancer surgery.
Why to Consider Revision Surgery in Tampa
Plastic surgery is a precision discipline; however it's also something an art, subject to a variety of factors and variables. Patient factors include each patient's healing response and tissue integrity, which can be negatively impacted by advancing age, smoking, extensive sun damage, etc. Procedure-related factors may include too little or too much tissue rearrangement, removal or tightening despite your surgeon's best effort to do just the right amount in this regard — your results will be uniquely yours.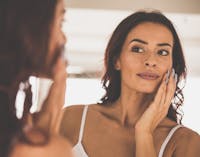 We understand that achieving your ideal results depends not only on understanding them thoroughly, but taking your own personal anatomy, and prior procedures into account, as well.
We work closely with our patients, developing custom treatment plants that are tailored to their specific needs, and we'll answer any questions you might have prior to your procedure.
Patients seeking aesthetic and/or reconstructive plastic surgery need to accept the fact that a revision or tuck may be necessary to achieve the optimal result. Some patients do very well with a specific procedure while others achieve only partial improvement with the same procedure. Part of the art of plastic surgery involves being relatively certain that a specific procedure will give a particular patient the desired improvement, but also knowing what else can or should be done if the result is for any reason less than satisfactory.
Accomplishing the optimal level of facial harmony depends on a variety of factors, and it's not at all uncommon to come away from a cosmetic or reconstructive facial surgery, only to realize that you're less than enthusiastic about your results. At Holcomb - Kriethen Plastic Surgery and MedSpa, we understand that getting you the results you've always wanted requires an in-depth understanding of your anatomy and aesthetic goals, in equal measure. We'll work closely with you to determine exactly the type of procedure that'll help you look and feel the way you've always wanted. Reach out and set up an in person consultation at our Tampa or Sarasota location today!