Body Sculpting in Tampa, Sarasota, and Beyond
Few other centers in the Tampa and Sarasota area can match our range of body sculpting options. Holcomb - Kreithen Plastic Surgery & MedSpa offers a wide variety of non-surgical and surgical body sculpting technologies to address your specific cosmetic concerns.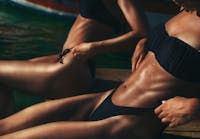 Cellfina
Holcomb - Kreithen Plastic Surgery & MedSpa is proud to be the first practice in the Sarasota-Bradenton area (and one of the first in Florida) to offer the breakthrough Cellfina® system for treating hard-to-lose cellulite.
Cellulaze
Cellulaze™ is the first and only FDA-approved cellulite treatment that addresses the problem at a structural level. Cellulaze is a minimally invasive procedure that offers long-term results and immediate improvement.
CoolSculpting
CoolSculpting is the only FDA-approved, non-surgical fat reduction and body sculpting procedure that uses controlled cooling to reduce stubborn fat deposits. CoolSculpting offers noticeable results and requires minimal downtime. This procedure is a popular alternative to liposuction, which breaks down fat so it can be naturally eliminated from the body.
SculpSure
SculpSure® is a breakthrough in affordable, non-invasive laser body sculpting designed to reduce stubborn fat in problem areas such as the stomach and love handles, helping you achieve a slimmer and natural-looking appearance without extensive surgery or downtime.
diVa
diVa® is the world's first and only hybrid fractional laser to treat vaginal tissue and help women feel more like their younger, vitalized selves. diVa is a quick, comfortable, no downtime solution to a woman's most intimate issues and concerns. This treatment is most often performed for women who have given birth, gone through menopause, or both, as they may have experienced undesirable changes in their vaginal health over time.
---
SmartLipo laser body sculpting
SmartLipo™ is a type of laser-assisted liposuction. Unlike traditional liposuction, SmartLipo body sculpting instantly liquefies fat cells, making it easier to remove fat through a smaller cannula. SmartLipo advantages include smaller incisions, reduced bruising and swelling, and a smoother appearance, as the skin is firmed during treatment.
---
ThermiSmooth 250 and ThermiTight
ThermiSmooth 250® and ThermiTight® use radiofrequency technology to safely and effectively tighten skin. They are non-surgical skin tightening procedures that reduce wrinkles, tighten the skin, and help contour the body. ThermiTight can be used to treat the lower face and neck, stomach, arms, legs, hips, and breasts. ThermiSmooth 250 can be used to reduce bra rolls and treat wrinkles around the eyes and mouth, and the sagging skin of the neck, abdomen, and knees.
---
CoolTone
CoolTone™ is a non-invasive body sculpting and muscle building procedure that causes involuntary contractions during treatment to strengthen and build muscle tone. Areas that are most effectively treated with CoolTone include the abdomen, buttocks, thighs, and arms. Holcomb - Kreithen Plastic Surgery & MedSpa for body sculpting in Tampa, Sarasota, and beyond
With nearly 40 years of combined experience, Dr. Holcomb and Dr. Kreithen have established an advanced center that is a one-stop-shop for all your aesthetic needs.
We are an extremely sophisticated, comprehensive practice with very competent and compassionate team. We have an in-depth medical spa offering the most advanced non-invasive procedures, as well as highly innovative body sculpting devices.
We provide a large variety of lasers for laser body sculpting and other treatments. We provide excellent customer support, white-glove customer service, accessibly to many different therapies, and we offer multiple locations to service all patients. If you're interested in body sculpting treatments in the Sarasota and Tampa area, contact us today.