Restylane Treatments in Sarasota and Tampa
Restylane® is an effective, versatile dermal filler family that is widely popular due to its impressive results. Restylane products have the ability to improve nearly any area of the face that presents a trouble spot, including thin lips, sunken areas, and wrinkles.
How Restylane works
Restylane works by filling areas underneath the skin to add volume to soften lines and wrinkles. It is a clear gel made from hyaluronic acid, a molecule that occurs naturally within the skin. Hyaluronic acid helps the skin to appear plumper, healthier, and more hydrated.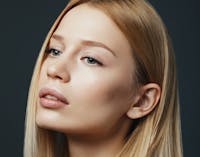 What can Restylane improve?
Restylane products are able to improve many problem areas of the face by:
Softening facial wrinkles and folds (Restylane, Restylane-L, Restylane Lyft, Restylane Refyne, Restylane Defyne)
Providing subtle lip augmentation (Restylane, Restylane-L, Restylane Silk, Restylane Kysse)
Smoothing lines around the mouth (Restylane Silk)
Adding lift and volume to the cheeks (Restylane Lyft, Restylane-L)
Reversing volume loss on the backs of the hands (Restylane Lyft)
Improving laugh lines (Restylane Refyne, Restylane Defyne)
Adding volume to sunken/hollow areas of the face (Restylane Lyft)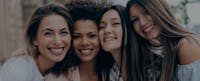 Candidates for Restylane treatments
If you're in the Sarasota and Tampa area and you're considering Restylane treatments, it may be an excellent treatment for your aesthetic goals. The best candidates for Restylane:
Are over the age of 21
Are in good health
Have reasonable expectations for the treatment
Do not have any type of bleeding disorder
Are not pregnant or breastfeeding
Are not allergic to lidocaine
Do not have an active skin infection
Restylane
The original Restylane is a great mid-grade filler that improves moderate to severe facial wrinkles, nasolabial folds, and thin lips. It is ideal for the under-eye area, and can be combined with other Restylane products to enhance results. Results with Restylane last about 10 months.
Restylane-L
Restylane-L is much like Restylane, only it has lidocaine to help with discomfort during injection. Results with Restylane-L last 5 to 7 months.
Restylane Lyft
Restylane Lyft is one of the strongest Restylane products, and can support a lot of tissue. Lyft has the most lifting capability of the Restylane family. It is injected to lift sagging skin of the face, add volume to deep wrinkles, and improve sunken or hollow areas of the face. It is often used along areas where there is bone, such as the jawline and cheekbones. Restylane Lyft delivers incredible volumization and lasts for 18 months.
Restylane Silk
Restylane Silk is great for subtle, precise improvement in areas with very fine lines, such as under the eyes. It is an incredibly thin gel, and is often used to provide natural-looking lip augmentation and to fill in areas where hollowness is present, but not severe. Restylane Silk results last for 6 to 10 months.
Restylane Refyne & Defyne
Restylane Refyne was designed to correct moderate laugh lines and anywhere on the face that is "mobile", as the product is very flexible and settles in nicely where the lines are. Restylane Refyne can last up to 18 months. Restylane Defyne is much like Refyne, only it was designed with a thicker gel to target more severe laugh lines. It also lasts up to 18 months.
Restylane Kysse
Restylane Kysse is made specifically for lips. When it comes to lip fillers, this product is highly advanced. It adds a beautiful fullness to the area and smooths "smoker's lines" around the lips to provide an overall more attractive appearance. Besides lip augmentation, Restylane Kysse also enhances lip color and has been designed with XpresHAn Technology™ to achieve flexible movement and natural-looking volume. Results can last up to 12 months. Restylane treatments from Holcomb - Kreithen
Holcomb - Kreithen Plastic Surgery & MedSpa brings together nearly 40 years of combined experience to provide patients with the absolute best customer service and care, with injectables being one of our main services. We are your one-stop-shop for all things aesthetic, with an in-depth medical spa offering the most advanced non-invasive lasers and procedures, as well as body contouring devices and cosmetic injectables and lip fillers such as Restylane. Our center is extremely sophisticated, with a very competent and compassionate team. If you're interested in Restylane treatments in the Sarasota and Tampa area and would like to learn more, please contact us today.