Most patients are very familiar with using Botox and other similar neuromodulators as a means of tackling the dynamic facial wrinkles that occur when we communicate or express our emotions. They're also familiar with using dermal fillers as a means of enhancing facing volume in areas that appear gaunt or lackluster, or for volumizing the lips.
Now imagine a dermal filler that essentially does what Botox does, only it does it with naturally occurring ingredients like hyaluronic acid. That's what the new RHA collection from Revance is.
What are RHA fillers?
RHA stands for "Resilient Hyaluronic Acid," and is a group of innovative hyaluronic acid-based dermal fillers. Their unique formula and composition allows them to effectively address dynamic facial wrinkles, like the laugh lines and forehead wrinkles that show up when we smile, talk, or otherwise express our emotions. The RHA Collection is the world's first and only FDA-approved collection of hyaluronic acid-based dermal fillers for the treatment of dynamic wrinkles.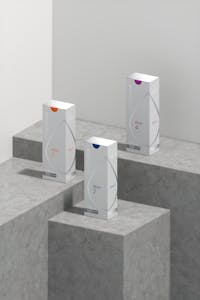 Introducing the RHA Collection
The RHA collection by Revance includes the following fillers:
RHA2

for mild to moderate facial wrinkles. RHA 2 is best suited to superficial smoothing, radial cheek lines, perioral lines, and lip augmentation.

RHA3

for moderate to severe facial wrinkles. RHA 3 is typically used at the corners of the mouth, in moderate nasolabial folds, and commissures.
RHA4 for severe facial wrinkles and nasolabial folds. RHA 4 treats the deeper lines and folds on the lower face and jawline.
RHA fillers enhance facial volume, fills wrinkles, boosts the skin's suppleness, smooth out laugh, frown and forehead lines. Perhaps best of all, the RHA Collection is "beautiful at rest" and "flawless in motion" — meaning you won't suffer from that dreaded frozen look and your results look beautiful and natural whether you're simply standing there, or engaged in a very expressive conversation, meeting, or other interaction.
The RHA collection of fillers are the world's first and only FDA-approved hyaluronic acid-based dermal fillers for treating dynamic facial wrinkles and nasolabial folds. Hyaluronic acid is a naturally occurring carbohydrate molecule found in all living cells, but your body's supply of it and production capabilities of it dwindle with age, causing loss of volume and sagging skin tissue. As hyaluronic acid is fully biocompatible, adverse reactions are extremely rare.
What do RHA fillers treat?
The new RHA fillers by Revance have a broad range of uses and, since they tackle both volume loss and dynamic wrinkles, for many patients they may be the only facial injection they require. RHA fillers treat the following:
Frown lines

Crow's feet

Forehead lines

Other fine lines

Nasolabial folds

Marionette lines

Cobblestone chin

Loss of facial volume

Dynamic facial wrinkles
What can I expect during treatment?
In a personal consultation, our experienced providers will examine your skin and discuss your concerns and goals for the procedure. They'll then create a treatment plan that includes determing which filler to use where and in what volume. Next, a topical anesthetic can be applied to reduce any discomfort. The selected filler(s) is then carefully injected into the rights areas to correct mild to severe facial wrinkles, and smooth out nasolabial folds.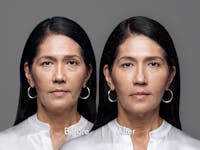 What is recovery like?
Aside from any mild bruising and swelling at injection sites, there is technically no recovery downtime required for the RHA collection of fillers. If this is your very first treatment and you are not sure how your body will respond to the needle pokes, it may be best to allow yourself a few to several hours just to be sure. You should expect mild redness and slight swelling in the treatment areas which may last for a few hours.
When will I see the results?
You'll notice results immediately and will see a further improvement over the next several days of weeks. Depending on how fast your body metabolizes the product and the lifestyle you lead (sun exposure, skincare, smoking, etc.), your results may last for as long as 2 years.