While we pride ourselves on our cosmetic plastic surgery procedures, we also understand that looking your best involves so much more. At Holcomb - Kreithen our approach to your health and beauty is comprehensive, which is why our MedSpa offers an impressive range of skincare products, all designed to help you rejuvenate the way you look and feel, whether you're also here for a surgical procedure or not!
Teoxane's RHA Serum is an incredibly effective skin care product, and our patients love it for its ability to refresh and rejuvenate your skin with its incredibly effective and advanced formula. Reach out and set up an in-person consultation, to learn more about Teoxane RHA and whether or not it's the right solution for you!
What Can Teoxane RHA
Do for Me?
With its highly advanced formula, Teoxane's RHA serum is an incredible rejuvenating product, able to help restore your skin's ability to retain moisture, giving it a more youthful glow. This product is a topical treatment that works best with regular use, so do keep in mind that consistency is key, when it comes to enjoying the following benefits:
Hydrated Skin
Reduced Fine Lines & Wrinkles
Brighter, Youthful Complexion
Toned Skin
Plumpness
Smoot & Healthy Skin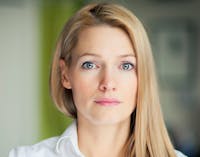 How RHA Helps Your Skin
Hyaluronic acid is an important substance that your body naturally produces on its own, to help your skin retain moisture. This keeps it healthy, and allows it to retain its firmness, shape, and youthful glow. Its presence makes sure your skin stays healthy and hydrated, but our bodies produce less and less of it as we age.
Teoxane's RHA contains a highly-concentrated form of hyaluronic acid, which works by forming a protective layer, on the outermost levels of your skin. This enables the treatment to work effectively, sealing in moisture and improving your complexion as it does so. With consistent use, Teoxane's RHA serum can help to lift and brighten skin in about 14 days.
What's in Teoxane's
RHA Serum
Teoxane's incredible RHA serum contains a number of ingredients to help refresh and rejuvenate your skin, for natural-looking, healthy effects:
RHA to help your skin stay hydrated and reduce the presence of fine lines and wrinkles.

B6, zinc, copper, and a blend of amino acids to help your skin stay healthy and nourished.

A powerful blend of antioxidants to ensure your skin stays revitalized, and reduce the appearance of fatigue brought on by oxidative stress.

14 days for smoother, more youthful skin, with consistent use.
Teoxane's Resilient Hyaluronic Acid
(RHA) Skin Care System
Teoxane's RHA hydrates and tightens the skin to reverse and reduce signs of aging, and includes a skin refining agent, which treats fine lines and age spots, as well as the highly-popular RHA serum, which pairs antioxidants with the patented RHA hyaluronic acid formula to hydrate and brighten skin.