Acne is an incredibly common skin condition, but it can be just as frustrating and persistent as it can be commonly-seen. Frustrating prescriptions, creams, and other treatments are often ineffective, come with annoying side effects, and don't always work as quickly as efficiently as we'd like.
At Holcomb - Kreithen, we offer the Forever Clear BBL treatment, which uses highly advanced broadband light therapy to treat acne without the need for invasive surgery or any kind of significant recovery period. This cutting-edge procedure uses light energy to stimulate cell regeneration in a way that clears skin, leaving it looking healthy and fresh.
How Does Forever Clear BBL Work?
By using a unique, multi-step system, the Forever Clear BBL treatment can effectively treat acne, without any kind of painful or invasive surgery. This process is quick, comfortable, easy, and effective.
The first step eliminates bacteria deep in your pores, the source of acne.
The next step works back against inflammation and generally clears redness from the skin.
The final step stimulates the body's natural healing process, to regenerate fresh cells and rejuvenate the area in a general sense.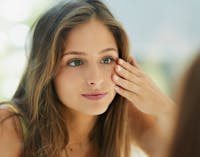 If you've been wondering about how you can treat acne without the need for surgery, and without the need for annoying creams or messy treatments, Forever Clear BBL might be the perfect treatment for you. Set up an in-person consultation at Holcomb - Kreithen, and a member of our highly-trained skincare team will help you figure out exactly what treatment is best for you. We know that everyone is unique in their needs and goals, and we're excited to learn exactly how we can bring you the results you've always wanted.