Laser Procedures in Sarasota and Tampa
Doctors J. David Holcomb and Joshua C. Kreithen are passionate about the ability of laser and energy treatments to improve the lives of their patients. With the wide variety of laser technologies and body contouring devices at Holcomb - Kreithen, life-changing results can be accomplished.
Laser procedures
at HK Plastic Surgery
Especially in sunny Sarasota and Tampa, our skin can become very susceptible to sun damage, wrinkles, dryness, and other bothersome conditions. With our advanced laser MD procedures, we can address nearly any problem area of the skin.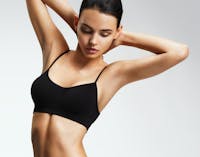 Drs. Holcomb and Kreithen:
Leaders in the field of laser therapy
Both Dr. Holcomb and Dr. Kreithen frequently integrate laser technologies into their respective surgical areas of expertise. Dr. Holcomb co-developed the radiofrequency assisted facelift procedure (AccuLift™), and Dr. Kreithen very often utilizes Cellulaze™ anti-cellulite treatment and Smartlipo™ laser body sculpting.
In addition, Dr. Holcomb is honored to have some of his before and after patient photos selected for inclusion in the widely distributed Sciton® brochure. He has achieved impressive results with procedures such as MicroLaserPeel®, ProFractional™ laser resurfacing, and deep resurfacing with Contour TRL™.
What conditions can be treated?
Contouring with Accutite™, Bodytite™, FaceTite™, and Smartlipo
Improving photodamage and wrinkles as well as tightening skin with the eCO2™ ablative fractional laser, erbium YAG laser, and Renuvion™
Hair and scalp rejuvenation with KeraLase™ and NeoLTS®
Reducing vascular lesions with excel V™ and Clarity II™
High-speed laser hair removal with Clarity II
Skin rejuvenation with BBL™, LaseMD, and PicoPlus®
Multi-color tattoo removal with fewer treatments with PicoPlus
Skin tightening with Genius™ Intelligent RF and UItherapy®
Reduction of acne scarring with eCO2, ProFractional, and Genius Intelligent RF
Vaginal rejuvenation treatments including diVa® and diVaTyte™
Localized targeting of skin laxity and wrinkles with PlasmaPen™
A selection of our
laser MD procedures
AccuLift
Co-developed by Dr. Holcomb, the AccuLift procedure was designed to refresh and rejuvenate the face by sculpting the cheeks, jawline, neck, and area underneath the chin. Also known as laser assisted facial and/or neck contouring, this minimally invasive procedure uses a small laser fiber inserted under the skin to reduce excess fatty tissue deposits and promote skin tightening. The AccuLift may be performed as a standalone procedure, or it may be combined with other procedures such as facelift, laser skin resurfacing, or dermal fillers.
Cellulaze
The Cellulaze procedure is performed in our accredited, private, office-based outpatient ambulatory surgery center, using local anesthesia and light sedation. The surgeon begins the procedure by making several very small incisions in the targeted area. The Cellulaze laser fiber is inserted under the skin and then used to release the contracted fibrous bands that are pulling down the skin, to reduce excess fatty tissue and to promote skin tightening.
CO2 ablative fractional laser
The eCO2 ablative fractional laser is a state-of-the-art laser system designed to rejuvenate dull, lax skin of the face and neck. While improving the damaged outer layers of skin, the laser will also stimulate collagen production and promote skin tightening.
HALO hybrid fractional laser
The HALO™ hybrid fractional laser can deliver the results you want without the downtime you dread. It delivers both ablative and non-ablative wavelength (1470 nm) in an innovative fashion to provide results more typical of ablative lasers, but with downtime that is intermediate or more typical of non-ablative lasers.
Laser skin resurfacing
Laser skin resurfacing can effectively rejuvenate the skin by reducing facial wrinkles and unwanted dark pigment and by creating a fresher, more supple surface. By stimulating the body's own collagen production and remodeling, the skin will continue to gradually improve over many months following treatment.
ProFractional ablative laser
The ProFractional ablative fractional laser is a state-of-the-art laser system designed to rejuvenate dull, coarse skin of the face and neck. While improving the damaged outer layers of skin, the laser will also stimulate collagen production. Laser treatments in Sarasota
and Tampa from Holcomb - Kreithen
With two board-certified plastic surgeons at the helm, you will be in excellent hands at Holcomb - Kreithen Plastic Surgery & Medspa. At our comprehensive center, we can address any cosmetic concern you may have. Laser treatments and non-invasive body contouring are two of our main services, and we pride ourselves on delivering outstanding results in a professional, warm environment. With Dr. Holcomb as a face specialist and Dr. Kreithen as a body specialist, HK Plastic Surgery offers a one-stop-shop for all aesthetic needs. If you're in the Sarasota and Tampa area and you're interested in learning more about out energy and laser MD treatments, contact us today.