Cosmelan® Skin Depigmentation Therapy
Any number of different factors can contribute to the darkening (hyperpigmentation) of the facial skin. Oral contraceptive medication, pregnancy, sun exposure and other conditions may lead to skin darkening over the temples, forehead, cheeks and perioral areas. Many of our patients have attempted to treat the discoloration with topicals, chemical peels and laser treatments, with little to no success, and have difficulty concealing the affected areas.
What Can Cosmelan
Help With?
CosmelanSkin Depigmentation Treatment effectively reduces the discoloration in a relatively short period of time for most patients.
Cosmelan is effective for:
Melasma
Brown spots
Blotchy skin
Hyperpigmentation
Post-inflammatory hyperpigmentation
Prevention or treatment of hyperpigmentation post-laser or post-peel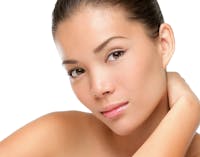 What is Cosmelan?
Cosmelan is a topical treatment that blocks the process that causes hyperpigmentation of the skin.
Cosmelan slows the body's production of melanin, which is responsible for skin darkening. Ingredients in Cosmelan inhibit the melanin-creating enzyme tyrosinase, leading to a decrease in skin pigmentation.
Am I a Good Candidate?
Individuals with facial skin discoloration may be good candidates for this treatment. Check with our Licensed Medical Estheticians to see if you are a candidate and for a list of things to avoid prior to treatment (eg abrasive treatments, chemical peels, various topical medications). Compliance with the full Cosmelan Skin Depigmentation Treatment program is important to ensure optimum results.
What Are the Benefits of Cosmelan?
CosmelanSkin Depigmentation Treatment is an effective option that is compatible with all skin types.
There are several benefits to this treatment:
Effective against all types of melasma
Rapid depigmentation
Compatible with all skin types
Produces a light peeling effect to rejuvenate the skin
Cost effective compared to other less effective cosmetic treatments
CosmelanSkin Depigmentation Treatment Process
Cosmelan treatment is a two-part process. It begins with an in-office session, followed by at-home maintenance. During your first session, your face will be cleansed with a purifying solution to eliminate oils and allow the Cosmelan cream to penetrate the skin. Your skin will then be covered with a Cosmelan mask that will need to remain in place for a number of hours (patients go home with the mask in place). An intensive at home skin care regimen immediately follows that gradually eases into normal skin care routines that will then include maintenance therapy with Cosmelan 2 cream.
The skin may become mildly irritated during the first week of treatment and some mild redness with flaking and peeling may occur. Within seven to 10 days of initial treatment most patients see significant improvement with greater skin clarity and vibrant new skin that is softer, smoother and brighter.