The face is not only one of the first places where we start to show signs of aging, but it's also the first thing people see, when we present ourselves to the world. Issues like fine lines, wrinkles, sun damage, and other imperfections whose presence can suggest an aged appearance, can be easily resolved with a chemical peel in Sarasota.
Our highly-experienced skincare professionals can provide chemical peels of varying depths and strengths, for the effective reduction of fine lines, uneven pigmentation, and other problems, for refreshed and rejuvenated skin...without the need for any invasive surgery. We'll work closely with you, developing a customized treatment designed to suit your individual needs. Reach out and set up your in-person consultation today!
What Can a Chemical Peel Do for Me?
While the facelift is one of the most popular and relied-upon plastic surgery procedures available, not everybody needs to undergo an invasive surgical procedure to enjoy a refreshed and rejuvenated appearance in the face.
Our chemical peels in Tampa are non-invasive, and don't require any significant recovery period. You'll be able to complete the treatment in as much time as it takes to sit through your lunch break, and you'll be able to return to your day-to-day activities with little to no downtime. A chemical peel is a great way to reduce the presence of:
Wrinkles
Laugh Lines
Nasolabial Folds
Uneven Pigmentation
Sun Damage
Rough Texture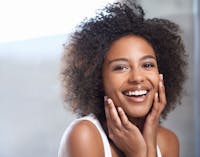 Glycolic and Salicylic Peels
Light fruit-acid derived peels that help boost skin softness, and smoothness by exfoliating dead cells, speeding up cell turnover and stimulating the production of collagen (the protein fiber that keeps skin from sagging and wrinkling). These superficial peels involve some slight stinging or tingling but can be performed safely on practically all skin types. A series is recommended for best results.
Customize Your Procedure
At Holcomb - Kreithen, we understand that most cosmetic issues don't really come with a one-size-fits-all kind of solution. Rather, the best skincare is provided on a case-by-case basis, which is why our team of skincare professionals will work closely with you to determine the treatment that's best for you.
We'll customize your chemical peel to not only address the specific issues you've brought to us, but to also care best for the specific individual needs of your skin. Every body is different, which is why we take the time to get to know our patients and their unique goals and needs.
Vitalize Peel
A stronger peel using a unique blend of Retinoic Acid, Alpha Hydroxy Acids with Resorcinol and other active cosmeceutical ingredients will help you achieve dramatic improvement in texture and tone, lessening of superficial lines and a healthier, more youthful look and feel with minimal "down time".
This renewal process has been clinically proven to help pigmentation problems (such as age spots) fade and stimulate collagen production in the cells underneath. It is gentle enough to use every 3 weeks for maximum benefits and a glowing, healthy start to your Skincare regimen.
Rejuvenize Peel
Rejuvenize Peel is an advanced formulation of peeling agents, with a built-in anti-irritant and penetration enhancer that provides controlled exfoliation of the uppermost damaged layers of the skin to reveal fresher and healthier skin.
Illuminize Peel
Improve radiance and complexion - for mild skin imperfections with no downtime.