Breast Revision Surgery in Sarasota and Tampa
Many women decide to undergo breast revision surgery to correct problems arising from a previous breast procedure. The issue can be as simple as old implants that need to be replaced, or more complicated problems such as capsular contracture. At HK Plastic Surgery, breast revision is one of our areas of expertise.
What is breast revision surgery?
Breast revision surgery corrects and restores the breast shape and appearance if a patient is experiencing problems because of her breast implants. A breast revision procedure has the ability to remove and/or replace existing implants; re-shape a stretched breast, or improve scars.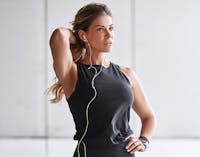 Benefits of
breast revision surgery
Replace or remove existing implants
Re-contour a breast that has been stretched
Remove painful scar tissue that has formed around the implant
Restore self-esteem and confidence
Why get breast revision surgery?
When it comes to breast implants, there are many reasons why a patient may want to change the outcome from their first procedure. Sometimes it's simply a matter of the implants becoming old. Other times, a patient may have never been pleased with her results. For some women, they never found their implants to be comfortable. But the most common reason for a breast revision surgery is because there is a problem with the implants themselves. Breast implant complications can include:
Implant rupture
Implants are made to be very durable; however, they aren't impenetrable, and it is possible for them to rupture and deflate.
Capsular contracture
If scar tissue around the implant becomes thick and contracts, it can result in the implant becoming hardened and losing its shape.
Rippling/wrinkling
Rippling is the most common issue with implants. This is when the type of implant "disagrees" with a woman's skin or body type and wrinkles appear under the skin from the implant.
Aged implants
Implants have a lifespan of about ten years. With age, they can change and move, causing an unbalanced appearance.
Implant displacement
When the implant moves from its original position, it can cause discomfort and/or a misshapen breast shape.
Asymmetry
Sometimes implants can cause the breasts to appear uneven.
Symmastia
Symmastia happens when the implants "join together" in the center of the chest.
Your breast revision consultation
Your initial breast revision consultation will be one of the most important steps of your surgery. It's during this initial meeting that you can explain exactly what you dislike about your current implant(s), and what you hope to achieve with a breast revision procedure.
Your medical history will be taken, along with a physical exam. You will be given the opportunity to voice any questions or concerns, and we will go over everything you need to know about the surgery, recovery, and follow-up appointments.
Because every patient's case is different, the exact details of your procedure and recovery will be unique to you and your condition. Breast revision from Holcomb - Kreithen Plastic Surgery
At Holcomb - Kreithen Plastic Surgery, not only is plastic surgery our main focus; Dr. Joshua Kreithen is also a board-certified plastic surgeon, and a specialist in the area of cosmetic breast procedures. If you're considering breast revision surgery or any other type of breast procedure, you will be in excellent hands with Dr. Kreithen. We have privileges at local hospitals to accommodate patients needing general anesthesia and/or overnight stays, and we also have a state-of-the-art, AAAASF-certified outpatient surgical facility. We provide comprehensive plastic surgery of the face, nose, breast, and body, and our center is a one-stop-shop for all things aesthetic. Besides being a gifted surgeon, Dr. Kreithen is also an artist who will deliver beautiful results. To schedule a consultation for a breast revision surgery, contact us today.