A true extension of skin care. Minerals soothe and protect while offering complete coverage for post-op camouflage or everyday wear. Rated "very water resistant" by the FDA and non-irritating 20 SPF support active lifestyles and can be worn by every member of the family.
Schedule your Jane Iredale Skin Care Makeup consultation today by clicking here!
Gift certificates are available!
AAAHC Accredited
Known as The Skin Care Makeup, the Jane Iredale line is a highly-sophisticated blend of minerals and pigments that are micro-pulverized, using proprietary technology and processes to form microscopic flat crystals. These crystals overlap each other on the skin to form a filter that allows the skin to breathe and function normally while still protecting it from air-borne pollutants and harmful ultraviolet rays. The staying power of the minerals is so great that they rarely need a touch-up during the day. And because these silky-feeling powders are water resistant, they won't crease or smear even during the most strenuous exercise. These state-of-the-art minerals are available in so many colors that there's one for every complexion, no matter what the ethnicity.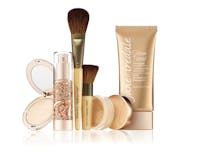 Non-comedogenic and oil-free, will not block pores
Virtually no allergy risk because there are no perfumes, preservatives, or dyes
Broad-spectrum built in UVB and UVA protection – SPF 20
Anti-inflammatory, helps to calm and soothe irritated skin
Very water resistant rating by the FDA
Complete coverage for skin conditions like acne, rosacea and redness following treatments like chemical peels and laser resurfacing
Contains no fillers
Composed of inert minerals that are anti-bacterial
Environmentally aware and not tested on animals