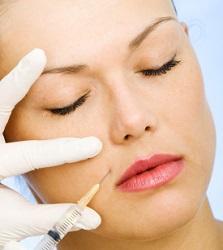 Since its arrival on the cosmetic scene over a decade ago, Botox has grown to become by far the most widely used cosmetic procedure on the planet. Botox is an injectable intended for cosmetic purposes and is a derivative of the botulinum toxin (hence the name). The chemical is injected into the muscles of the face in order to reduce and prevent the appearance of wrinkles.
Botox injections work by intercepting nerve impulses in the muscles that have been injected, which limits their activity. The limited activity helps to reduce the creation of wrinkles and lines over time, because it's the habitual facial expressions, such as smiling, frowning or furrowing eyebrows, that create lines of aging.
Dr. David Holcomb can explain in detail how Botox can help you quickly and conveniently reduce the signs of aging for up to four months. Contact our Sarasota office if you would like to schedule a consultation.
Tagged Anti-WrinkleBotoxInjectable