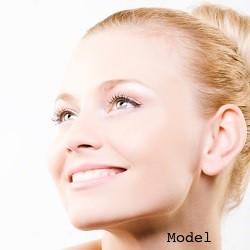 AccuLift™: The Ideal Way to Fight Aging in the Face and Neck
Throughout the aging process, the tissues of the face and neck lose elasticity and become lax. As this occurs, fatty deposits begin to sink down the face, causing a droop around the eyes and cheeks, as well as forming jowls along the jawline.
AccuLift™, the first and only laser-assisted facial-contouring procedure currently available, was developed to address these problems. AccuLift™, which was co-developed by Dr. Holcomb, is a one-time procedure that rejuvenates and refreshes the face.
Instead of surgery, AccuLift™ is a cutting-edge treatment that uses highly concentrated laser energy to melt sagging fatty tissue. The fat can then be removed through a cannula or naturally by the body. The energy from the treatment also works to tighten the drooping skin tissue and reduce wrinkles.
AccuLift™ can be done in as little as one 30-minute minimally invasive outpatient procedure. It is ideal for use on both the face and neck, and can significantly improve the appearance of nasolabial folds, sagging jowls, and lax tissue under the chin.
At a fraction of the cost of a traditional facelift, the AccuLift™ procedure consistently provides efficient and effective results. To find out how you can turn back the clock – without surgery – call 941-365-8679 to schedule a consultation with Dr. Holcomb.