As we age, fatty tissue in the temples tends to recede resulting in volume loss and hollowing in the temples. In youth fullness in the temples contributes to facial beauty. Temporal augmentation is a plastic surgery procedure designed to enhance the look and proportion of the temples through the use of specially designed implants. Temporal shell implants can reverse hollowness of the temples and balance the facial features.
Temporal shell implants may also be combined with other procedures such as the Blepharoplasty (Eyelid Surgery), Laser Assisted Facelift, Laser Skin Resurfacing to provide enhanced overall facial rejuvenation results.
Alternatives to cheek augmentation include autologous fat grafting (Adivive fat harvest and transfer) and soft tissue filler injections (e.g. Radiesse; e.g. Voluma XC).
The Temporal Shell Implant Procedure
Performed as an out-patient procedure in our private, accredited, office based ambulatory surgical facility, temporal augmentation is generally performed with light IV sedation and takes up to 1 hour. The surgeon will first make a small incision in the temporal scalp on either side and the implants are then carefully inserted into the hollow area of the temples.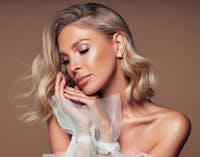 Temporal Shell Implant Recovery
During the initial one-week recovery from Temple Augmentation there may be mild discomfort and mild to moderate swelling. Although bruising may occur it tends to be light. Patients generally feel well enough to return to normal activity in one week, however strenuous activity should be postponed for two to four weeks.
Holcomb – Kreithen Plastic Surgery and MedSpa is located in beautiful Sarasota, Florida. For more information about Cheek Augmentation, or any other cosmetic procedure, call our office at 941.365.8679. We will be happy to answer your questions, and assist in setting up a consultation appointment.