If you've been looking for a way to tighten and rejuvenate the skin of your face and neck areas, you might be pleased to learn that there are more options available than your standard plastic surgery procedure. At Holcomb - Kreithen Plastic Surgery, we offer a number of non-invasive procedures, like Ultherapy, to lift and refresh the skin under your chin, and around neck and eyebrow areas, while also softening of decollate wrinkles using ultrasound technology. Our Medspa offers this innovative technology to rejuvenate the face, neck and decollete areas, without the need for invasive surgery.
What is Ultherapy?
Ultherapy is the only FDA-cleared, non-invasive lift procedure. It uses incredibly safe ultrasound technology to tighten and tone loose skin on the brow and neck areas.
Focused ultrasound stimulates the production of collagen deep in the skin, a natural protein that gives your skin its firmness and tone. As we age, our collagen begins to lose its strength and elasticity, and its ability to counteract the effects of gravity that work to pull the skin downward. Ultherapy can help encourage your body to strengthen and rebuild existing collagen, while also producing new collagen to restore a more youthful appearance. Ultherapy has also been FDA-approved for treatment and reversal of decollate wrinkles.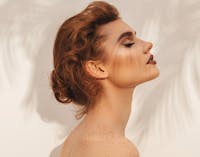 The Ultherapy Procedure
The Ultherapy device delivers ultrasound energy into deep tissues of the skin to target connective tissues. The device delivers a precise amount of energy, exactly where it is needed to tighten connective tissues and skin, in a procedure that takes 30 to 60 minutes or longer, depending on the treatment area(s).
After treatment, you will notice firmer, tighter skin, and some reduction in wrinkles. The results look very natural. Results are not typically visible immediately, and significant results often take one to three months to develop with most patients realizing maximum benefit after six months.
The Ultherapy procedure has no downtime, yet offers tighter younger-looking skin, even on the neck, without surgery. Your skin may feel tender or sore for a few days, and you may experience slight swelling or bruising.
Am I a Good Candidate?
Good candidates are individuals who have some skin laxity with skin that is starting to loosen or sag. This procedure is ideal for those who are beginning to show signs of aging, such as sagging skin on the eyelids, a lowered eyebrow line, or loose skin under the chin or on the neck.
This skin tightening treatment is often effective at delaying the need for surgery or prolonging the effects of cosmetic surgery.
While there is no specific age that will make you a good candidate, many patients who get the best benefit from Ultherapy are in their 30s to 50s.
Ultherapy
Ultherapy is an innovative new non-invasive treatment for facial rejuvenation. This FDA-cleared procedure utilizes ultrasound energy to penetrate deep into the skin where it stimulates the production of new collagen. This creates a natural yet significant tightening and lifting effect in the skin and an overall refreshed appearance.
The Rachael Ray show recently featured Ultherapy as one of the latest procedures in the aesthetic market that can be used to turn back the clock on aging.